We always go north when the wind comes from the south.
Route 2 - Medium distance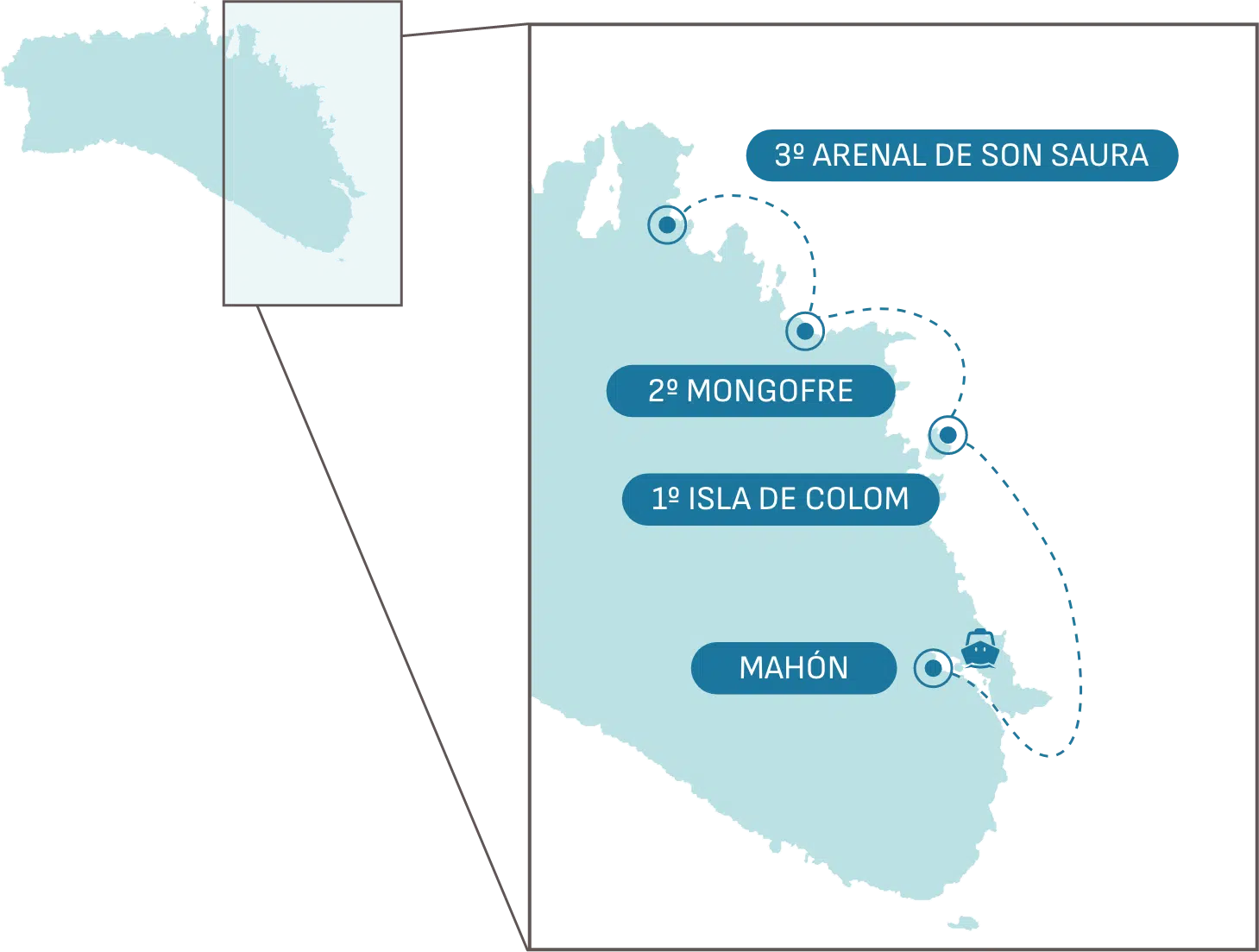 On sailing times, from the last stop at 20 knots (fast for a small boat).
Start of route
Mahon
The historic port of Mahón is not only the largest natural harbour in Europe and the third largest in the world, but also one of the most beautiful. It stretches more than 6 km inland from Menorca, where the island's capital, Mahon, is enthroned on a hill. The island's marinas are also located there. Sailing takes between 20 and 30 minutes, mainly due to the internationally prescribed speed limit of 3 knots, which, however, no one strictly adheres to. Getting in and out is the highlight of the boat trip. You glide past historic sites such as the residence of XXX, the King's Island which, in addition to a hospitable museum, houses the spectacular art centre of the world-famous Galarie Hauser & Wirth. You can also see Lazareto Island, a former quarantine island with double walls, and the imposing Fortaleza de la Mola, at the mouth of the harbour. The 19th century fortifications secured the harbour but were never used.
1st stop - 17 min HIKING
Colom Island
The island is very close to Menorca, you can almost swim across. The channel offers fantastic crystal clear waters and plenty of space for anchoring. However, in July and August it gets very crowded. The island itself offers two unspoilt beaches. The left of the two, "Los Tamarindos" is one of the most beautiful beaches of Menorca and is rarely crowded. The one on the right, "Arenal d'en Moro" is also beautiful. Both can be reached by boat, but anchoring is not allowed in the immediate vicinity. Only very small boats are allowed to land on the beach. Special Feature: Although we are on the north coast, we have these two south-facing beaches with sun until the afternoon.
2nd stop - 25 min HIKING
Mongofre
Mongofre is one of our favourite places on the north coast. Difficult to reach from land. The walk is more than 2 hours from Favarix or Addaia. Both bays are beautiful and wild at the same time. There is a big sand dune that you can climb and sometimes you can see goats in the wild. The beach does not offer any infrastructure.
3rd stop - 22 min HALF-TIME TRAVERSE
Arenal de Son Saura
This beach is beautiful and offers a white sandy beach. You can anchor along the yellow buoys and swim to the beach. It is a popular and lively beach with a restaurant on the left and another on the right. Both are good middle class.
---
Other routes that may interest you