We always go south when the wind comes from the north.
Route 4 - Short trip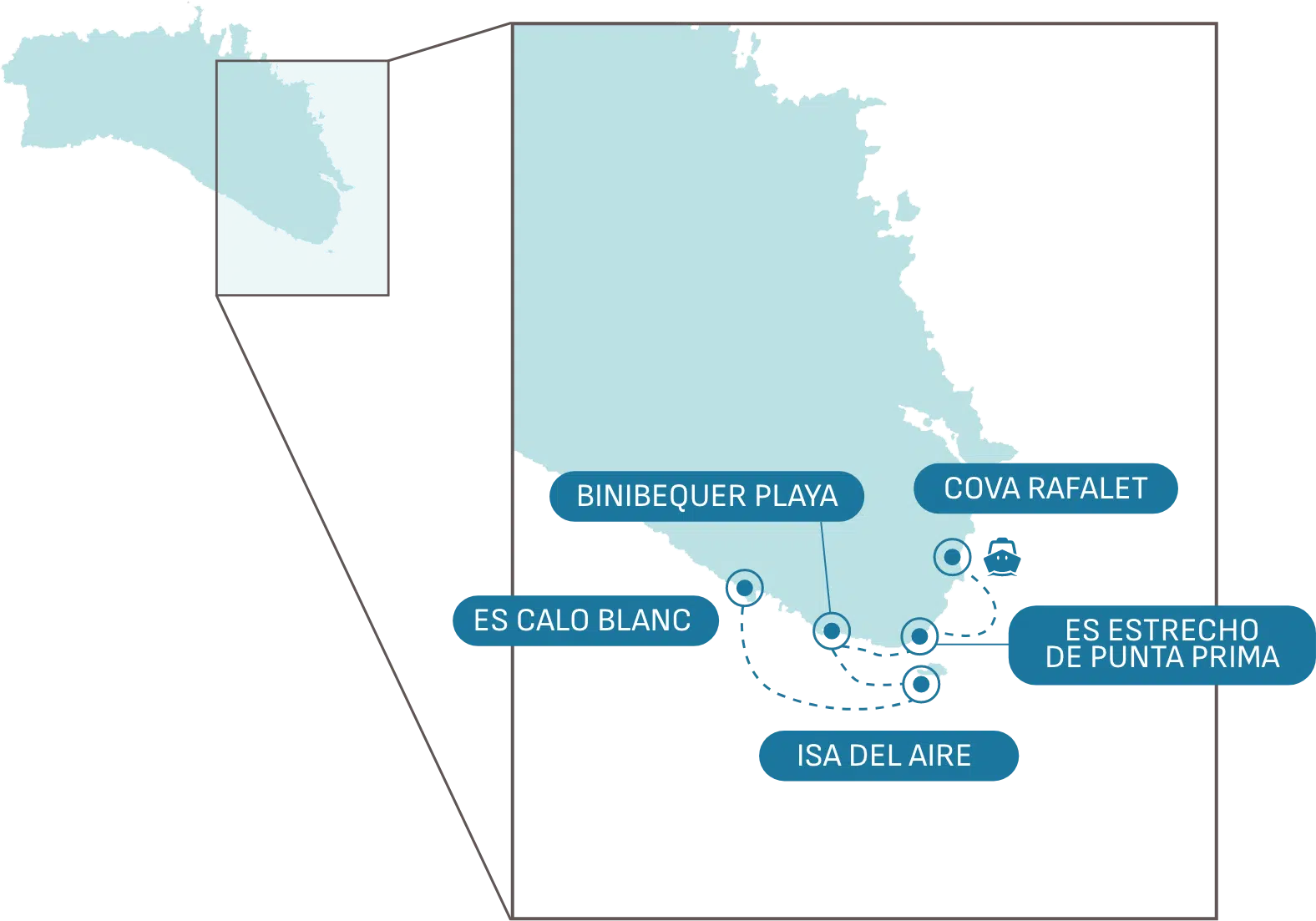 On sailing times, from the last stop at 20 knots (fast for a small boat).
Start of route
Rafalet Cave
Shortly after leaving the harbour we arrive at the Rafalet Cave. It is big enough for our boats and yachts to enter.
1st stop - X min crossing
The Strait of Punta Prima
Between Punta Prima and Isla del Aire there is a strip of light-coloured sand that is perfect for a first dip in the sea, provided there is not too much traffic.
2nd stop - X min crossing
Binibequer Beach
Binibequer beach is one of the most popular beaches in the southeast of the island. Its beach hut has existed since the 1960s and is an icon of the island. However, there are only snacks. It anchors well and the water and beach are beautiful. However, it can get crowded in high season.
3rd stop - crossing of X min.
Isa del Aire
The Isla del Aire in the southeast of Menorca is known for its black and very trusting lizards. The funny thing is that the lizards turn green when you take them off the island - you can even give them some fruit! Otherwise, the flat island has a beautiful lighthouse and rugged bays with very, very clear water.
4th stop - crossing of X min.
Es Calo Blanc
This small cove is one of our favourites, as most people drive by... The water is a beautiful turquoise colour and there are rocks to jump from 2 to 9 m high. The mix of sandy bottom and rocky bottom offers a nice snorkelling experience.
---
Other routes that may interest you